WHAT IS LONDON HELP TO BUY?


Under the government's London Help to Buy scheme, people buying a new-build home in Greater London can apply for an equity loan of up to 40% of the property's value. London Help to Buy equity loans are available to first-time buyers looking to buy a new-build property. With London Help to Buy, the government will lend you up to 40% of the property's value (compared with 20% if you were buying outside London). You then need to put down a deposit of at least 5% and get a mortgage to cover the remaining 55% of the property price.
The London Help to Buy scheme could help you realise the dream of owning your own home in the capital. When you put down as little as a 5% deposit on a newly built home, you can get a Government equity loan – for up to 40% of the purchase price. Example: for a home with a £400,000 price tag.

If the home in the example sold for £420,000, you would get £252,000 (60%, from your mortgage and the cash deposit) and you would pay back £168,000 on the loan (40%). You would need to pay off your mortgage with your share of the profit leaving you with a profit of £12,000.

You won't be charged loan fees on the 40% loan for the first five years of owning your home.

Aldermore, Bank of Scotland, Barclays, Halifax, Leeds, Lloyds, Nationwide, NatWest, Newcastle, Royal Bank of Scotland, Santander, Teachers and TSB all work with London Help to Buy to offer lending solutions.


Garrison Estates recommend you speak with a professional mortgage broker with Help to Buy experience to ensure you find the best rates and have the smoothest buying experience.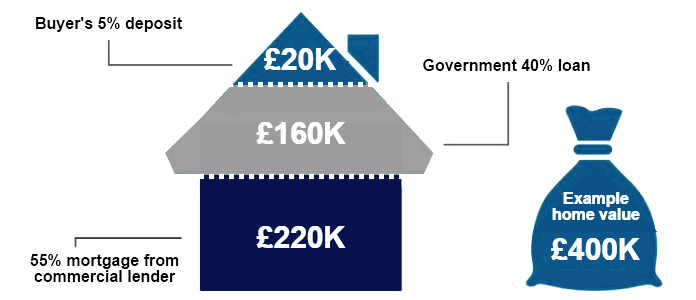 The Benefits of Using Help To Buy
You will only need a 5% deposit (as opposed to the 10% usually required by mortgage lenders if you don't have an equity loan) As you're taking out a smaller mortgage, it will be easier for you to prove to lenders that you can afford the monthly mortgage repayments. Additionally, borrowing a smaller proportion of the property's value from a mortgage lender gives you access to better mortgage rates.

London Help to Buy equity loans are available only to first time buyers and the home you want to buy must be newly built with a price tag of up to £600,000.

Please be aware you won't be able to sublet this home or enter a part exchange deal on your old home. You must not own any other property at the time you buy your new home with London Help to Buy.

The London Help to Buy scheme is run by the Government-appointed Help to Buy London agent. They can guide you through your purchase, from providing general information about the scheme to dealing with your application.

To open the door to owning your home in London, we recommend you contact your Help to Buy agent for London:

• helptobuylondon.co.uk
• 0300 5000996

Garrison Estates have several scheme available with Help to Buy.

Please get in touch to discuss with you today !